Jag Plåtar Låtar #2 (Februari)
Februari är här och dags för del nummer 2 i "Jag Plåtar Låtar".
Februari är ju månaden som många förknippar med kärlek och värme med tanke på Alla Hjärtans Dag. En kärlekslåt som alltid legat mig varmt om hjärtat är Bon Jovi's "Bed of Roses". Om man djupdyker i denna låten är det en ganska tung låt med många olika känslor och bekännelser. Dock kommer man hela tiden tillbaka till den kärleksfulla och varma delen i historien och det är just denna delen jag valt att fokusera på. Jag hoppas att med denna bilden kunna förmedla en varm, mjuk och fin känsla hos betraktaren.
Medan jag satt med Joella och Michelle och planerade lite smått inför denna plåtningen så kom Joella med förslaget att göra en "bonus-fotografering" med motsatt tema. En "anti valentine" så att säga. Detta tyckte vi såklart alla tre lät intressant så så fick det bli! En låt tillägnad Kärlek och ljus och en låt tillägnad – beroende hur man tolkar låttexten – mörker, smärta och depression. Låten heter "Bed Of Razors" och det är gjord av det finska metalbandet Children Of Bodom. Titeln är ju ganska självförklarande då jag låter bilden tala för sig själv.
Precis som sist så ber jag er som följer denna fotoresa att kommentera här nedanför och komma med förslag på låtar som DU vill se mig tolka under årets gång!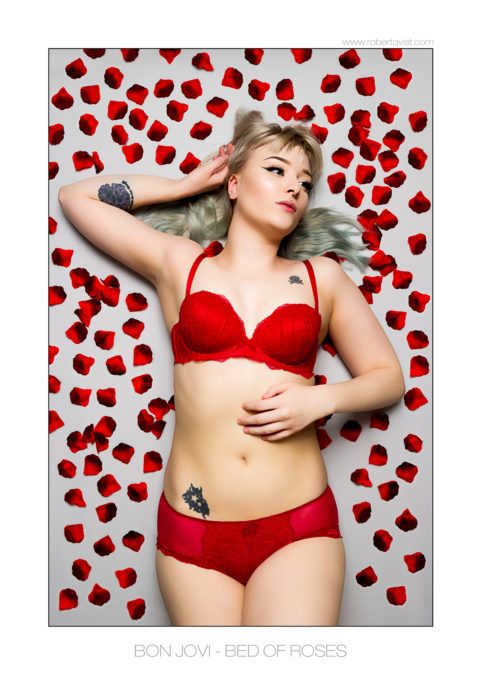 Bon Jovi – Bed of Roses
Modell: Michelle Wilson
Instagram: https://www.instagram.com/michellewilsson/
Youtube: https://www.youtube.com/user/Michimille
Assistent: Joella Johannesson
Facebook: https://www.facebook.com/JoellaPhoto/
Instagram: https://www.instagram.com/trolletj/

Children Of Bodom – Bed of Razors
Modell: Joella Johannesson
Facebook: https://www.facebook.com/JoellaPhoto/
Instagram: https://www.instagram.com/trolletj/
Assistent: Michelle Wilsson
Instagram: https://www.instagram.com/michellewilsson/
Youtube: https://www.youtube.com/user/Michimille